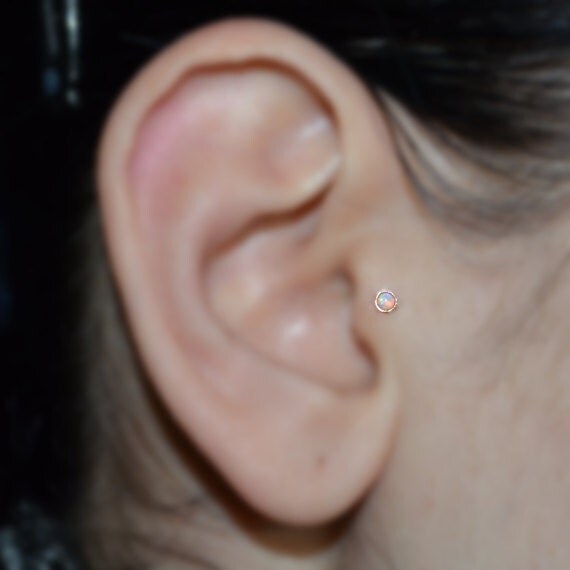 9.95 USD
Elegant 14k Rose Gold Filled opal tragus stud earring.
This simple and beautiful piece of jewelry is perfect for a variety of outfits and occasions.
The listing is for ONE stud (not for a pair).
The wire ends were rounded and polished to provide you with a smooth end for insertion. The earring was then polished.
You can find answers to most of your questions (like "earrings size & gauge guide") in my blog at http://modernjb.wordpress.com/
This item does not contain nickel.
— C u s t o m i z i n g —
The tragus stud earring can be made with the following gemstones: Red Ruby, White Topaz, Sapphire, White Opal, Amethyst, Turquoise, Onyx, Blue Opal, Lapis, Garnet. Please select one during checkout process.
Your stud can be made in the following gauges (gauge means thickness): 20, 18, 16.
The stud can be made with the following post shapes: Right Screw, Left Screw, L Shape, 9mm post for tragus, 11mm post for ear lobe.
— M a t e r i a l s —
All tragus stud earring metal parts are made of 14k Rose Gold Filled
— M e a s u r e m e n t s —
– The stone measures 2mm in diameter
— P a c k a g i n g —
Your order will be perfectly packaged and ready for gift giving.
— A d d i t i o n a l . I n f o —
Please keep in mind that your brand new stud may vary slightly from the pics, because each piece is individually handcrafted.
— S h i p p i n g —
I will ship to the address you provided along with your order.
VERY IMPORTANT: Please make sure that your current address registered at Etsy is correct!
No Question Asked Return Policy
You can find more of the Modern Jewel Boutique jewelry collection here:
http://www.etsy.com/shop/ModernJewelBoutique
Thank you for shopping with Modern Jewel Boutique!