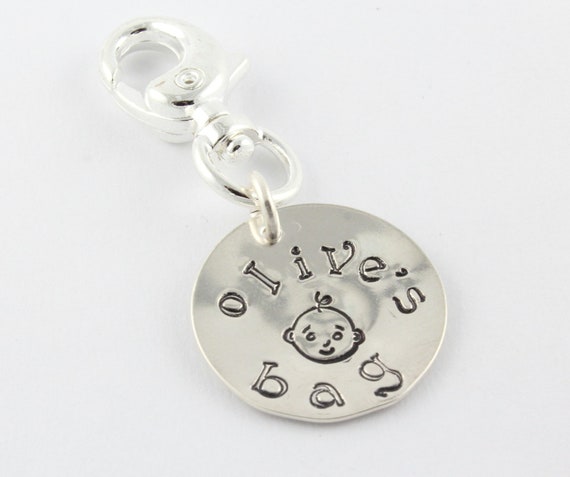 22.00 USD
Baby diaper bag tag! Sweet sterling silver 1" disc is hand stamped and personalized with the baby's name and a symbol or design stamp of your choice. We have a baby face, rocking horse, large teddy bear, pacifier, bottle, stroller and 400 other design stamps – http://www.flickr.com/photos/thesilverdiva/5567816477/
It's attached to a lobster claw swivel clip so you can put it on the zipper of a diaper bag.
When you checkout, please specify the following in the Note box:
1. Text for the disc
2. Upper or lowercase letters
3. Regular, script, typewriter, pinafore or fiona font (sample is lowercase fiona font) – other fonts can be found here: http://www.flickr.com/photos/thesilverdiva/5551633398/
Optional gift wrapping is available in the a la carte section of our store–see photo!
Hand stamping is a process where each letter is individually stamped into the metal. Each letter may not line up perfectly and some letters may be deeper than the others. This is not to be considered a defect and adds to the charm of each piece. This process is much deeper than engraving.