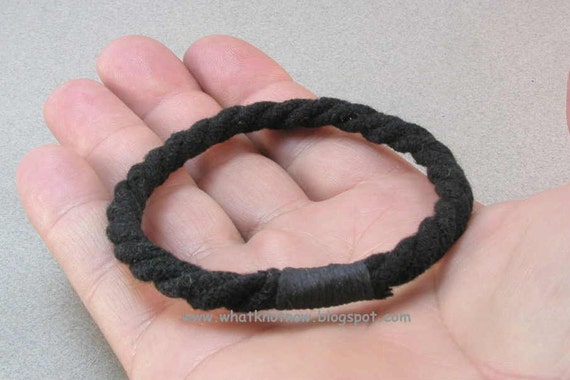 6.00 USD
Classic black soft bracelets, low profile stackable, easy care, wear everyday bracelets are so light and comfortable you might forget you are wearing them.
They are made from a single piece of line using an old-world marlinspike technique. The distinctive appearance is created by carefully reverse twisting a single strand of cord together in a three part circular pattern. The loose ends are secured by a piece of waxed thread whipping.
This listing is for a single bracelet.
Sizes listed are inside circumference of the bracelet, will stretch slightly:
Measure your slip-on size here: (please copy-and-paste into your browser)
http://bit.ly/FdRaQ
approx 1/4" (7 mm) wide
Sometimes these go out of stock so if you don't see your size available, just ask for the sizes you want.
See more colors and sizes of these grommet bracelets here http://etsy.me/1wNqcOe
color: black
Gift this item to a friend! Request a complementary gift greeting and specify alternate shipping address in your order. No invoice, no extra cost, no worries!
then shop with confidence.
All products come with a 100% customer satisfaction guarantee.