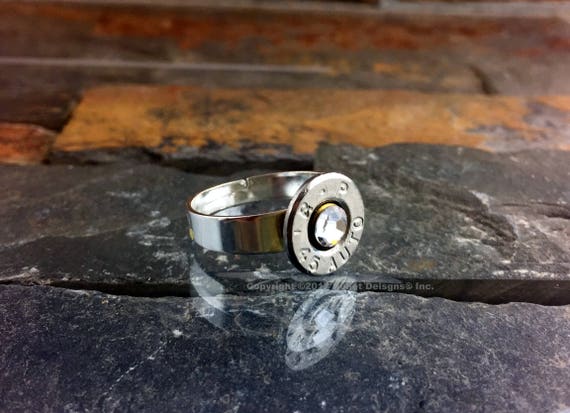 9.95 USD
Welcome to our Spring Sale! Our adjustable 45 Auto Nickel Remington Bullet Ring bullet ring is made from a silver plated ring base, genuine recycled bullet, and a swarovski crystal. Bullet is approximately 10.5mm in diameter (approximately 7/16"). SOOOO lightweight an comfy to wear!
•We use REAL Fired Bullets!!
•Bullet Designs® Gift Box Included
•Remington Bullet Headstamp is "RP" as shown.
•Our LOWEST price ever!!
•Quick Ship!
Crystal colors available:
Siam (January)
Amethyst (February)
Aquamarine (March)
Crystal/Clear (April) SHOWN
Emerald (May)
Light Amethyst (June)
Ruby (July)
Peridot (August)
Sapphire (September)
Rose (October)
Topaz/Amber (November)
Blue Zircon (December)
Light Pink
Light Red
No Crystal
Bullet Designs, Inc. products are created from bullets that have been fired, recycled and handcrafted into jewelry. Dimensions are approximate and sizes or colors may vary slightly due to the characteristics of handmade products. Fired bullets may have slight dings or scratches.
Please verify the correct shipping address before making your payment. If we ship your item to an old or invalid address and you are not able to locate the item, we are not responsible for shipping a replacement.
We welcome international buyers but please be aware that customs fees and taxes aren't included in the product price or shipping charge.
Please review our Shop Policies page before purchasing: https://www.etsy.com/shop/BulletDesigns#policies
Thanks! We appreciate your business!