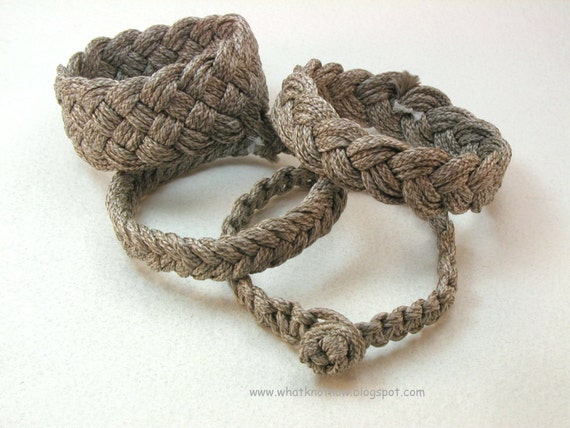 8.00 USD
Cool color and nautical style are yours with this mini-collection of rope bracelets. Each design is carefully handmade just for you.
The material is extremely light weight making these the perfect choice for people with small hands who want a traditional design but don't want the weight or bulk of the heavier cotton. Naturally elastic these bracelets have a lot of built-in stretch to the size listed:
17 x 3 x 3 traditional three part rope bracelet 7" (178 mm) –> 8 1/4" (209 mm)
17 x 5 x 3 wide weave five part rope bracelet 6 1/4" (158 mm) –> 7 3/4" (196 mm)
34 x 5 x 2 herringbone weave rope bracelet 7" (178 mm) –>8 1/4" (209 mm)
square knot macrame with toggle rope bracelet 7 1/2" (191 mm) –.8" (203 mm)
Material is a heather brown color 100% polyester so it is light and quick drying these bracelets will not shrink the way cotton bracelets tend to so select your preferred size.
Larger and smaller sizes of each design is available made-to-order. Please use the request button and allow a few days to make and ship your custom work.
Other design variations are possible using this material, please inquire.
Advice on size and measurement here (please copy-and-paste into your browser)
http://bit.ly/FdRaQ
Please note that photos show groups together the prices listed are for individual items.
More designs in the solids+collections section of the shop:
http://etsy.me/1wMm3sw
Then shop with confidence
All items come with a 100% customer satisfaction guarantee