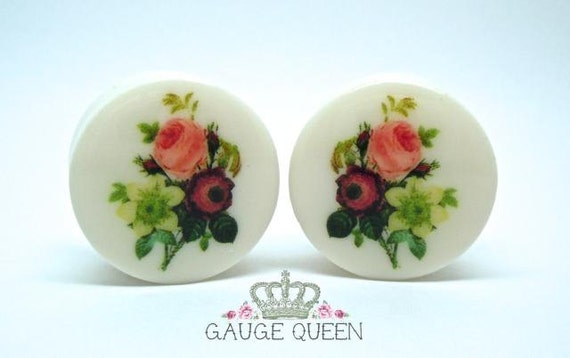 19.50 USD
**Our plugs are sold as pairs, please select quantity 1 for a pair**
An antiqued image, mirrored for a perfect pair, of a vintage bouquet on handmade bone composite double flare plugs. 1" (25mm) pictured.
All orders come with a little pot of 'Plug Potion' and you only pay for shipping once no matter how many pairs you'd like! Plug Potion is our way of saying thank you. We have created a gorgeous butter to keep your holes healthy and your plugs fresh. With Shea Butter, Olive, Argan, Almond, and Lavender Oil, our butter has moisturising, antibacterial, anti-fungal and anti inflammatory properties.
Buy any 4 pairs & get a 5th for FREE! Please don't pay for the free pair, just add a note to seller at checkout with the name of the free pair which must be of equal or less value than the cheapest pair you buy.