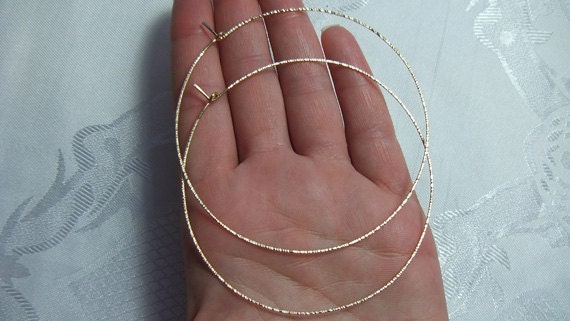 31.95 USD
Extra Large 14k Gold Filled Hoops. 14k gold hoop earrings. ear wire nickel free jewelry. gold / rose gold
These beautiful extra-large textured flat hoops look very impressive. They are handcrafted of 14k Gold filled wire and hammered to a shining finish. These hoops are perfect for everyday wearing, comfortable and lightweight. They are perfect for any mood and occasion!
The earrings ends were smoothed and rounded so they won't irritate your ears.
— M a t e r i a l s —
Earrings are 20 gauge 14k Gold filled wire.
— M e a s u r e m e n t s —
Earrings diameter is approx 3 inch
— P a c k a g i n g —
Your order will come in a gift box.
— A d d i t i o n a l . I n f o —
Listing is for a Pair
Note: Made with 20 gauge wire. Fits normal ear piercings.
Please keep in mind your brand new pair might vary ever so slightly from the pics, as each piece is individually handcrafted.
No Questions Asked Return Policy
Visit My Shop Below To See More Innovative Jewelry
http://www.etsy.com/shop/ModernJewelBoutique
Thank you for shopping with Modern Jewel Boutique.