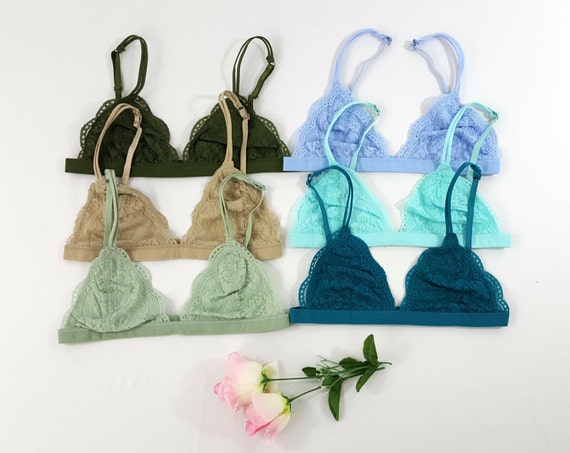 7.00 USD
LACE BRALETTE LACY BRALETTE
Floral Sheer Lace Triangle Bralettes Bra Bustier CROP TOP unpadded Mesh Lined A B C
Floral Sheer Lace Triangle BRALETTE TOP UN-PADDED LINED with soft mesh
High quality, beautiful floral sheer lace triangle bralette.
Low-cut with adjustable double spaghetti straps in front and adjustable elastic bands on the back.
A thin, smooth elastic band with fine stitching and a hook and eye closure.
Free of any wires, un-padded and lined with soft mesh.
Wear under anything! Sheer garments, tops, cool blazers, jackets.
🌸🌸FREE SHIPPING on US orders over $25 witth coupon code – FREESH🌸🌸
🌸🌸Spend USD$25 and save 10% with coupon code – 10OFFNEW🌸🌸
🌸🌸Spend USD$50 and save 15% with coupon code – 15NEWOFF🌸🌸
♥♥All order ships out within 1 business day.♥♥
Here at VUTIQ, customer satisfaction is our top priority. Our goal is to provide top quality product that you will love! Follow us on instagram @VUTIQ and tag us for a chance to get featured. 
♥♥Size♥♥
S/M : 32A, 32B, 34A
M/L : 32C, 34B, 34C, 36B
One Size : 32A, 32B, 32C, 34A, 34B, 34C, 36B
♥♥CARE♥♥
Keep your bralettes pristine condition by following these simple care rules:
– Hand Wash Cold 
– Hang or Flat Lay Dry
– Do Not Bleach
♥♥RETURN POLICY♥♥
We accept all returns or exchange as long as the items are never worn(or just tried on). Please send us Etsy's direct message within two weeks from the delivery confirmation. When we receive and approve the request, we will send you a message with more detailed instruction on how to return or exchange.
♥♥SHIPPING♥♥
All items ships via USPS (with some exception). Please use USPS address format.
Shipping and Handling cost for each additional item is USD$1.00(US) and USD$1.50(non-US).
Domestic (US): delivered within 3-5 business days.
Domestic Priority (US): delivered within 1-3 business days.
International (Anywhere outside US): delivered within 7-14 business days. (on rare occasion customs may cause delay)
If the item is not delivered within the time window mentioned above, please contact us for more information.
♥♥Questions and Answers♥♥
If you have any questions, please contact us any time through Etsy conversation message. All messages will get response within 1 business day.
♥♥♥♥
lace bra, lace bras, lace brassiere, lace brassieres, lace bralette, lace bralettes, triangle bra, triangle bras, floral lace bra, floral lace bras, gojane, gojane bra, gojane bras, crop top bra, crop top bras, sexy bra, sexy bras, cute bra, cute bras, cheap bra, cheap bras, high quality bra, high quality bras, in USA, USA seller, sheer bra, sheer bras, spaghetti bra, spaghetti bras, spaghetti line bra, spaghetti line bras, spaghetti lined bra, spaghetti lined bras, bustier, designed in california, 2015 best trend look, lacy triangle bra, lacy triangle bralette, lacy bra, lacy bralette