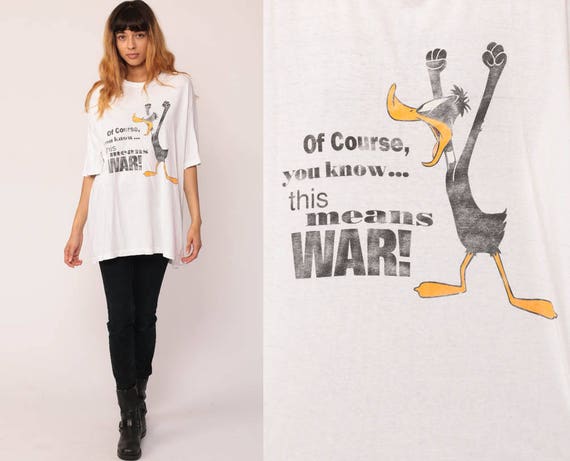 35.00 USD
Vintage 90s t shirt with Daffy Duck from Looney Tunes and "Of course you know… this means war!" on the front. Unisex.
Every item we sell is authentic vintage and one-of-a-kind! You will receive the EXACT item shown in the photos.
For reference, model is 5'9" and measures 34-24-35.
DETAILS
Best fits: extra large (Note: We only have ONE in stock. If more than one size is listed it is because this item will work on a range of sizes. Check measurements for exact fit.)
Condition: very good vintage with light general wear. Image on front is slightly faded
Material: feels like cotton
MEASUREMENTS
Taken from seam to seam while the garment is lying flat. Double the armpit, waist, and hips.
Length from Top: 29.5"
Armpit to Armpit: 24"
Waist: 23"
Shoulder to Shoulder: 22"
Sleeve: 8.5"
FOR SALES AND PROMOTIONS, FOLLOW US HERE!
Instagram: @shopexile
facebook.com/shopexile