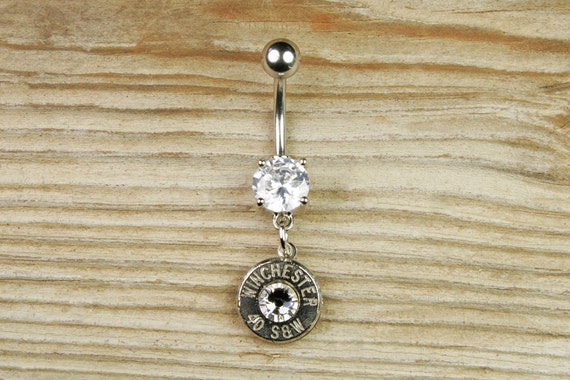 14.95 USD
Bullet Belly Button Rings are super trendy! Be the envy of your friends with our amazing Nickel Bullet Dangle Belly Button Ring! This ring is made from 14 gauge Stainless Steel, a Swarovski crystal, and a genuine bullet casing. Comes in a gift box!
Other crystal colors are available for the crystal on the bullet:
Siam (January)
Amethyst (February)
Aquamarine (March)
Crystal/Clear (April)
Emerald (May)
Light Amethyst (June)
Ruby (July)
Peridot (August)
Sapphire (September)
Rose (October)
Topaz/Amber (November)
Blue Zircon (December)
Light Pink
Light Red
Light Brown Topaz
Other Calibers are available in Nickel or Brass:
30-06
308
357 Mag
38 Special
380
40 S&W (Shown)
45 Auto
45 Long Colt
9mm
Bullet Designs, Inc. products are created from bullets that have been fired, recycled and handcrafted into jewelry. Dimensions are approximate and sizes or colors may vary slightly due to the characteristics of handmade products.
Please verify the correct shipping address before making your payment. If we ship your item to an old or invalid address and you are not able to locate the item, we are not responsible for shipping a replacement.
Please review our Shop Policies page before purchasing: https://www.etsy.com/shop/BulletDesigns#policies
Thanks! We appreciate your business!