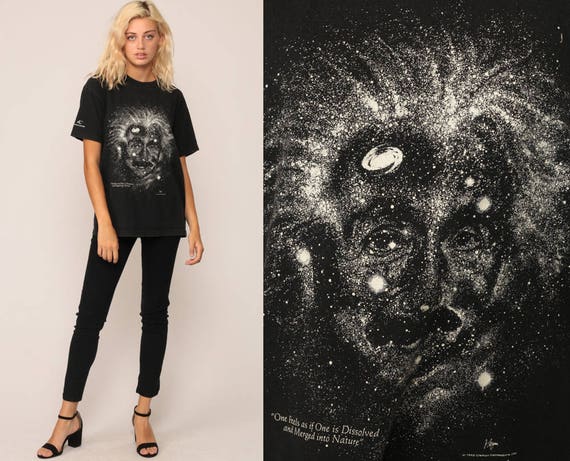 59.00 USD
Vintage 90s t shirt with a print of Einstein's face made up of stars and galaxies. The quote, "One feels as if one is dissolved and merged into nature" is featured in small type at the bottom. Circa 1993.
Every item we sell is authentic vintage and one-of-a-kind! You will receive the EXACT item shown in the photos.
For reference, model is 5'9" and measures 34-24-34.
DETAILS
Best fits: Labelled medium (Note: We only have ONE in stock. If more than one size is listed it is because this item will work on a range of sizes. Check measurements for exact fit.)
Condition: Very good vintage with light general wear.
Material: cotton
MEASUREMENTS
Taken from seam to seam while the garment is lying flat. Double the armpit, waist, and hips.
Length from Top: 27"
Armpit to Armpit: 20"
Waist: 19.5"
Shoulder to Shoulder: 18.5"
Sleeve: 8"
FOR SALES AND PROMOTIONS, FOLLOW US HERE!
Instagram: @shopexile
facebook.com/shopexile